Women4Women Tempe, Inc. began to be a reality in December, 2016, when I was listening to a program on NPR about a woman who was providing feminine hygiene products to women on the streets of Dallas, TX. Up until I heard that program, I had never thought about how difficult it would be to be a woman living on the street and to have a period. What would a woman do?  I couldn't quite come to grips with the fact that a basic female need was not being addressed for women living on the street in my city. But after talking with officials in Tempe, I found out nothing was really being done, so a very special core of women, Karen Merrell, Sandy Hume, Barbara Mishler, Sue Ringler, and I decided to make it happen.
Later on, I was listening to another program on NPR about how expensive feminine products are and how difficult it is for women with limited income to afford these products. We all talked about this, and decided we would make these products available to whomever needed them…no qualifying, no registering, no questions. If a woman wanted a bag, she would get a bag, or two, whatever she felt she needed. No questions.
We started by partnering with Tempe Community Action Agency, an agency where I had volunteered in the food pantry for a few years, and they have become a huge partner with us. Through that partnership, we received the initial donations and contacted the I-HELP congregations in Tempe, and two of these communities had donation drives, which provided us enough products to begin making bags.
From our humble beginnings, after 5 1/2 years, we have grown into a fully legitimate 501 (C) 3, and we deliver approximately 3,500 pad and tampon bags a month to over 40 distribution sites. We still rely on donations, we are all still volunteers, and we still share the same compassion for women and passion for our mission.  Women4Women Tempe, Inc. is proud of our accomplishments, and we are all eager to continue our mission of providing feminine hygiene products to women who need them but have difficulty affording them.
We absolutely could not provide our bags or products without the generosity of so many people and the groups who volunteer with us.
Thank you!
Kay Wright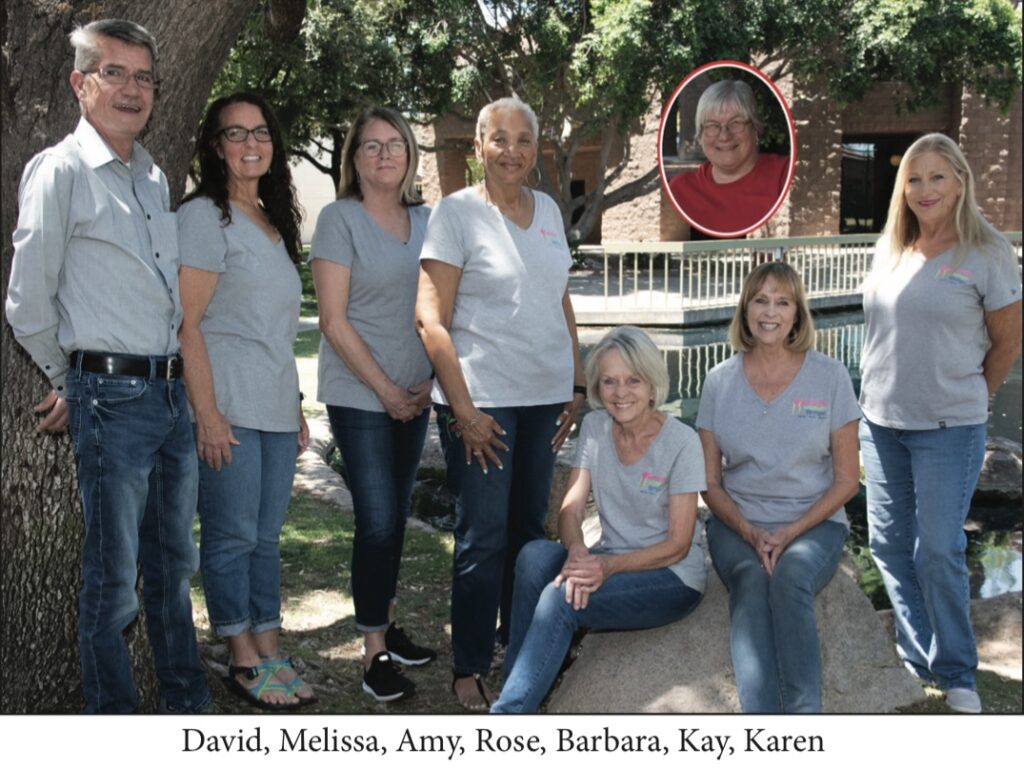 We are proud that the Women4Women Tempe Inc board is a diverse group who all share the passion for our mission, and work daily to further improve the lives of women who need feminine hygiene products, but have difficulty affording them.
Sue Ringler was a founding member of Women4Women Tempe and her wisdom, humor, and passion is missed by us all every single day.